For several centuries now, technology has advanced so much. We have conquered the moon, telegrams are almost obsolete, everybody is getting more connected through the internet and advances in telecommunications. However there are some things that have not changed through the years, one of those things is the way we read, we still read with printed pages. In the late part of this century, several changes were attempted to change the way we read. Books in electronic formats began circulating through the internet. However only a few devices were produced that were considered as a permanent substitute to change the way we read. All of this is about to change right now. Online retailer giant, Amazon have one such device that could permanently change the way we read and will most likely become a substitute to the paper based materials that we are used to. Not to mention that it will help lower the cost of reading materials since it is delivered in electronic format. It is environmentally friendly as well since no tress will be chopped up further as the reading materials is delivered electronically. Amazon intends to achieve this through its new revolutionary product, the Amazon KINDLE.
The Amazon website describes the Amazon Kindle as: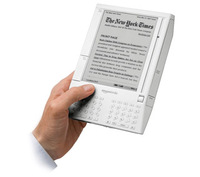 "The Amazon Kindle is a revolutionary portable reader that wirelessly downloads books, newspapers, magazines and blogs to a crisp, high-resolution electronic paper display that looks and reads like real paper, even in bright sunlight.
Kindle customers, no matter where they are in the U.S., can wirelessly shop the Kindle Store and download new content — all without a PC or a WiFi hot spot. Amazon pays for Kindle's wireless connectivity so there are no monthly wireless bills and no service commitments for customers. The Kindle Store contains over 90,000 books that can be purchased and delivered wirelessly to Kindle, each in less than a minute. Customers can choose from hundreds of top newspapers, magazines and blogs and have their subscriptions auto-delivered wirelessly. All New York Times Best Sellers and New Releases are $9.99, unless marked otherwise.
At 10.3 ounces, Kindle is lighter and thinner than a paperback book, carries two hundred books, and includes built-in access to The New Oxford American Dictionary and wireless access to the Earth's biggest encyclopedia, Wikipedia.org.
Product features are as follows:
• Revolutionary electronic-paper display provides a sharp, high-resolution screen that looks and reads like real paper.
• Simple to use: no computer, no cables, no syncing.
• Wireless connectivity enables you to shop the Kindle Store directly from your Kindle—whether you're in the back of a    taxi, at the airport, or in bed.
• Buy a book and it is auto-delivered wirelessly in less than one minute.
• More than 90,000 books available, including 100 of 112 current New York Times® Best Sellers.
• New York Times® Best Sellers and all New Releases $9.99, unless marked otherwise.
• Free book samples. Download and read first chapters for free before you decide to buy.
• Top U.S. newspapers including The New York Times, Wall Street Journal, and Washington Post; top magazines including    TIME, Atlantic Monthly, and Forbes—all auto-delivered wirelessly.
• Top international newspapers from France, Germany, and Ireland; Le Monde, Frankfurter Allgemeine, and The Irish    Times—all auto-delivered wirelessly.
• More than 250 top blogs from the worlds of business, technology, sports, entertainment, and politics, including    BoingBoing, Slashdot, TechCrunch, ESPN's Bill Simmons, The Onion, Michelle Malkin, and The Huffington Post—all    updated wirelessly throughout the day.
• Lighter and thinner than a typical paperback; weighs only 10.3 ounces.
• Holds over 200 titles.
• Long battery life. Leave wireless on and recharge approximately every other day. Turn wireless off and read for a week   or more before recharging. Fully recharges in 2 hours.
• Unlike WiFi, Kindle utilizes the same high-speed data network (EVDO) as advanced cell phones—so you never have to    locate a hotspot.
• No monthly wireless bills, service plans, or commitments—we take care of the wireless delivery so you can simply click,    buy, and read.
• Includes free wireless access to the planet's most exhaustive and up-to-date encyclopedia—Wikipedia.org.
• Email your Word documents and pictures (.JPG, .GIF, .BMP, .PNG) to Kindle for easy on-the-go viewing.
• Included in the box: Kindle wireless reader, Book cover, Power adapter, USB 2.0 cable"
What a great product ! Amazon will certainly make a lot from the Kindle, not to mention the Amazon Books that they could sell through the Kindle. It will certainly be among one of Amazon's best selling products,
With all of its exciting features, the Amazon Kindle will certainly live up to its name. It is sure to "kindle" the fire of revolution in electronic reading. Click here to grab your Amazon Kindle today at my Guerilla Blogger eStore today !