The advantages of investing in the stock market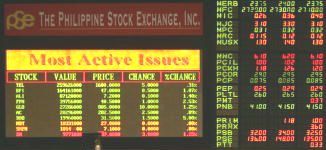 Last week I finished discussing part 1 of the series how to invest in the Philippine stock market, particularly talking about Basic principles that each prospective investors should understand. In this post we are going to discuss the advantages of investing in the stock market.
As I said in the previous post, the stock market is just another vehicle of investment. You might be asking yourself why would you want to invest in the stock market? What are the advantages of investing in the stock market.
The following reasons could probably answer the above question:
1.) Investing in the Stock Market has potential for great returns – Every financial expert would tell you that when the market has a potential to go up, it really goes up. Returns could range to as high as 30 % to 200 %+ per annum or even more. In the long term it is expected that you would really profit at lot. In 1997, the price of Globe Telecom Inc. (GLO) stocks was only P152.00 per share. Buying the minimum board lot which was 10 shares during that time would have only cost you about P 1,520.00. Now the price per share of Globe is P 1,620.00+. The value of those shares is right now P 16,200. That means in ten years time your money has grown times ten or a 1000 percent increase. It also means that you have a return of an average of 30 % per annum. Not bad compared to putting it in a time deposit account at less than 4 % per annum. You might also be interested to know that the Philippine stock market is at its highest these days. A bull run is still expected for the next 2 to 3 years. So hold on to your horses, I mean bulls and make the best out of the bull run.
2.) Investing in the stock market would make you "part owner" of the company that you are investing in. – Franchising a Jollibee outlet could cost you somewhere between 20 to 25 million pesos, not to mention the time and the effort you have to put in. Instead of franchising a Jollibee outlet in order to own your "own" Jollibee why not by stocks of Jollibee instead ? For only P 5,000 + you get to own 100 JFC shares (Jollibee Foods Corporations – JFC) That means you indirectly own the more than 1414 stores in the Philippines and 175 in other countries not to mention Red Ribon, Chowking, Deli-France, A popular fastfood chain – Yonghe King in China and popular teahouse chain from Taiwan called Chun Shui Tang including Jollibee's pilot restaurant "Tio Pepe's Karinderia." Isn't that cool! You could proudly say to your friends and relatives the next time you eat at Jollibee that you like to eat there because you "own part of the company." Perhaps owning stocks of PLDT or Globe will make you more prompt in paying your bills.
3.) You belong to a special group of people when you invest in the stock market –
When somebody will ask me to join a multi-level marketing scheme I always ask when the company started. The reason is that because if it started a long time ago, then my chances of recruiting other people will be slim because almost everybody I know has already been recruited.
But investing in the stock market is not mutli-level marketing. It does not matter whether the market is saturated or not. But it's good to know that we are among the first to exploit the market's potential.
According to Asian Development Bank as of 2005 only 600,000, out of the of the country's 87 million population, invest in the stock market. That's less than 1 % or roughly around 0.7 % It can also be observed that most of the market players are from the Class A and B segments.
4.) The stock market is still the one of the best investment – While it is true that investing in the stock market has its up and down moments, in the long run investing in the stock market is still one of the best investment vehicles out there.
Stock market returns fluctuate from year to year. In 1986 we have the recorded highest return rate at 224 % and negative 41 % as the lowest return rate in 1997. Yet despite the markets up and down if you hold on to your money (Holding period of about 20 years) on the long term, the average return for investing in the stock market is 24 % to 28 % per year so in short you it is not possible to incur any loss if you are a long term investor.
5.) Investing in the Stock Market forces you to become financially literate, more aware of your environment and inspires you to learn. – When you invest in the stock market you are forced to read the business news and place significant meaning on major news headlines. News to you does not only become something to be discussed in the coffee shop over coffee, but something that has an impact since you know it will affect how the market will behave. You will be compelled to understand terms that you did not even dream of understanding. You will become twice smarter than you were as you will keep on learning and reading in order to expand your knowledge. If you slept through your economics class before, your eyes will be wide open when you try to figure out what inflation means. You will be inspired to learn.
6.) Investing in the stock market will help you know what it means to harness the power of the internet – The progress of man is divided into several ages. We had the "stone age" the iron ages, bronze ages etc. then we moved up to the industrial age and now they say that we are in the "information technology age." In the information technology age, knowledge is power. For many of us that term is considered just an adage. But with online trading you will know what that means. Since I was in college I really wanted to know what it is like to invest in the stock market. I was just amazed when I see traders in movies, shouting buy or sell. But I did not invest back then mainly because of three reasons, lack of information, lack of capability and most of all lack of money. With the advent of the internet age, information is everywhere through the World Wide Web. Add to the fact that you can now trade online. With this opportunities that come into play, it was now possible for me to trade in the stock market. I monitor the news online, I buy and sell online, I transfer money to my accounts online and best of all it is now possible to trade globally and invest in other stock markets around the world with the use of your computer. Although this is an entirely different arena but the stock market trading principles still come into play.
7.) Investing in the Stock Market helps build the nation –This is the most noble objective and advantage as to why you should invest in the stock market. One of the main reasons why companies want to get listed in the stock exchange is that they want to infuse more capital into their business. The reason why they want more capital is they want to expand the business. More capital means more business, more business means more jobs, more jobs means more needs of the average Filipinos are being met. More business also means more taxes for the government. In a sense when you invest money in the stock market you are actually helping create jobs and at the same time more taxes for the government. This increase in economic activity helps build the nation.
These reasons certainly make a compelling argument as to why you should invest in the stock market.